Care Cap: Driving innovation beyond compliance
The Innovators Network connects councils with peers and innovators to access the latest technologies in a neutral forum to help solve some of the most pressing challenges they face.
On 18 October techUK held its first Innovators Network that convened over 40 people from across local government and tech industry. The half day session focused on the care cap changes and how we move beyond compliance to drive meaningful innovation to reimagine how social care is delivered.
Collaborating across the ecosystem
The Innovators Network session provided a safe and neutral space to connect innovators from across the ecosystem to better understand the challenge and what is possible in social care. An opportunity to think, come up with new ideas and solutions with like-minded peers. With thanks to the digital team at Redbridge council who posed the challenge for the first Innovators Network.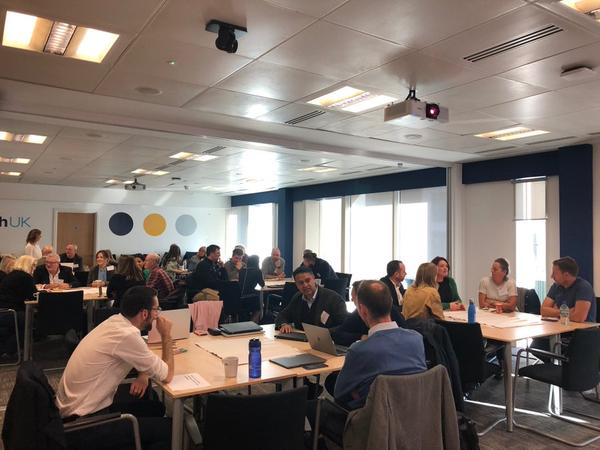 We kicked off the session hearing from Redbridge council who set the context and the challenge, which was closely followed by Merton council one of the care cap trailblazers. Hearing first-hand how they are preparing for the changes and insights from the discovery phase. We also learned from AWS how they collaborated with MadeTech and Redbridge Council on the programme that explored the impact of the care cap measure. Once the scene was set people sat in groups to discuss what existing tools and technologies are available to meet the implementation timescales.
What must we do to meet the statutory timescales?
What tools have we got around us to meet those timescales?
How can this situation be harnessed to prompt a more fundamental shift in the way social care is designed and provided?
Discovering the art of the possible
After the coffee break people were able to rotate across four workshops that started from compliance to how we leverage the change to do things differently in social care.
What tools can we use to be compliant and deliver on short-term requirements?
How do we drive further innovation beyond compliance?
How can we better collaborate across the ecosystem to drive progress in this area?
Who isn't in the room that needs to be, to deliver on this innovation?
We recognized that not everyone may have had the opportunity to rotate so we made sure each table feedback their key points to share learning.
Key takeaways & next steps
Throughout the half-day session, we heard about the various digital technologies and data can play in meeting statutory requirements and link up systems to make things easier for the user. This session also allowed for SME and industry not exposed to this market to offer innovative solutions and connect with established suppliers in local government. A recurring theme was that we need to better collaborate and take an ecosystem approach as not one single supplier can solve this problem.
Following on from the session techUK will work with members interested in collaborating on the care cap to showcase what a good ecosystem approach looks like.
Great that techUK had the big players in the room as well as hosting the challenge to industry, inspiring innovation
Great session with lots of ideas to help support this work
Events like this show the benefit of bringing diverse perspectives to bear on an important and complex topic
Great session that highlighted the business and technical innovation opportunities that the Care Cap could enable – as well as the challenges to delivery.
Get involved in the next Innovators Network
techUK will be running the Innovators a minimum of once a quarter. If you are a local authority and would like to propose a future challenge that will benefit other councils, then get in touch with [email protected] The aim is to hold the Innovators Network sessions across the country.
Why your council should get involved
Covid has provided Local Government with the necessary impetus move our respective digital agenda's forward. AI, low code development, data harvesting and utilisation are absolutely critical both serving our citizens needs and ensuring that we are leveraging new technology to better manage demand and be far more proactive in developing preventative solutions. Bringing tech partners and the public sector together allows us to better understand the challenges and problems we are trying to solve. The innovators network is a fantastic opportunity for Redbridge to collaborate and work across the industry to make change happen.
---
Georgina Maratheftis
Georgina is techUK's Associate Director for Local Public Services
Georgina works with suppliers that are active or looking to break into the market as well as with local public services to create the conditions for meaningful transformation. techUK regularly bring together local public services and supplier community to horizon scan and explore how the technologies of today and tomorrow can help solve some of the most pressing problems our communities face and improve outcomes for our people and places.
Prior to techUK, Georgina worked for a public policy events company where she managed the policy briefing division and was responsible for generating new ideas for events that would add value to the public sector. Georgina worked across a number of portfolios from education, criminal justice, and health but had a particular interest in public sector transformation and technology. Georgina also led on developing relationships across central and local government.
If you'd like to learn more about techUK, or want to get involved, get in touch.
Email:

Phone:

020 7331 2029

Twitter:

Website:

LinkedIn:

Ileana Lupsa
Ileana Lupsa is the Programme Manager for Local Public Services and Nations and Regions, at techUK.
Ileana studied electronics, telecommunications and IT as an undergraduate, followed by an MSc in engineering and project management at Coventry University.
She refined her programme management expertise through her most recent roles working in the automotive industry.
Ileana is passionate about sustainability and creating a positive impact globally through innovation.
Email:

Twitter:

Website:

LinkedIn: