Plenary & Breakout Sponsor
Computacenter is a leading independent technology partner, trusted by large corporate and public sector organisations. We help
our customers to source, transform and manage their IT infrastructure to deliver digital transformation, enabling users and their
business. Computacenter is a public company quoted on the London FTSE 250 (CCC.L) and employs over 16,000 people worldwide. To Find out more, visit computacenter.com/uk
Breakout Sponsor
Pure Storage (NYSE: PSTG) has a goal of providing a modern data experience to its clients through the provision of innovative technologies and services that allow more effective data storage, management and analytics and hence better leverage the value of data as an asset. Pure is one of the fastest-growing IT companies in history and is positioned highest for ability to execute and furthest for completeness of vision in the 2020 Gartner Magic Quadrant for Primary Storage Arrays. To find our more, visit purestorage.com/uk
Breakout Sponsor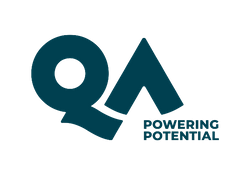 QA is the UK's leading tech talent and training organisation. We provide a comprehensive suite of services, helping individuals and companies to be winners in the digital revolution.
More than 293,000 people learnt with QA last year. We currently deliver to more than 5000 apprentices, 10,000 Higher Education students and more than 5,000 corporate clients, representing over 85% of the FTSE 350. Our London campus is the largest professional training facility for technology skills in Europe and we have 14 other state-of-the-art training sites and a BCS accredited academy. We have leading practices in Agile, Cyber Security, Cloud and DevOps – as well as many other tech specialisms – and attract some of the very best technology trainers from across the globe. In addition, our deep-rooted vendor partnerships mean that we deliver 70% of the UK's cloud training and are a Microsoft Gold delivery partner. In 2019, we acquired San Francisco-based Cloud Academy – one of the world's most innovative digital training platforms.
We specialise in the people side of tech transformation – our learning programmes help businesses to upskill or reskill their existing employees and our talent services are used to identify, recruit and skill-up diverse tech talent for our clients. This unique combination of training and talent services means we command an exclusive position as the go-to educator for the world's tech giants. To find out more, visit qa.com
Sponsorship Opportunities
Sponsoring one of techUK'S flagship events presents sponsors with the opportunity to establish their company as a thought leader and share influential speaker platforms with public sector leaders. In addition, event sponsors benefit from a range of brand awareness raising and marketing activities – providing value before, during and after each event.
To find out more about sponsoring the techUK Future Summit contact: