The role of digital IDs in securing seamless border journeys
Imagine a world where passengers move seamlessly from check in gate to arrivals, where rigorous security checks occur virtually without physical passports and goods pass through borders without physical checks by border agents, multiple copies of paper documents, and interaction with a multiplicity of disconnected Government systems.
Digital ID technology has the power to transform travel and trade. It can deliver more secure processes and greater efficiency, but its potential to create seamless journeys is vital. As the UK seeks to reassert its attractiveness to business and tourism, the digital transformation of our borders could be a critical part in making it a go-to destination.
Creating a seamless border journey
This begins far away from the check in gate or port. Most people and goods are checked in ahead of travel, providing personal details when booking flights or registering cargo before it leaves the depot. This digital ID, journey details and history can be shared with border agencies before travel to enhance security checks, target illegal activity and speed up journeys.
Once at the border, biometrically-enabled services already allow passengers to move easily from check-in to boarding gate quickly and securely, without the need to stop and show documents multiple times. Travellers are guided along more smoothly, reducing journey times, whilst access to departure lounges and boarding gates remains tightly controlled. Similar processes at ports can tighten security, reduce the administrative burden for commerce and accelerate the transit of goods, particularly where data can flow across multiple agencies working at the border.
This automation can be extended further, ultimately removing the need for physical documents: passengers' passport information can be stored securely in cloud-based systems, cross-referenced with other databases and attached to their journey itinerary. Facial recognition technology combined with other biometric checks at the border could enable legitimate passengers to travel from check in to arrivals without any physical interaction, enabling border agencies to identify illegal activity more easily.
Building trust and boosting security
Achieving this transformation relies on the acceleration of data integration without compromising on security.
The secure and smooth flow and exchange of data from start to end point is central to future border journeys. It requires common data standards, integrated across multiple agencies to the highest standards of cyber security. The way data is managed at the border must also protect people's right to privacy, requiring consent to be obtained and securely managed.
In the absence of an international approach, passengers and carriers would still need to share all the same data again at the other end of cross-border journeys, diminishing the seamless passenger experience. Tackling this requires absolute trust in the systems and border control of other nations – along with a need to reconcile regional data protection guidelines like GDPR - but trials are already taking place between countries to turn this seamless journey into reality.
Digital IDs are a key cornerstone of the future of travel. As complexity increases, expertise in all aspects of data management, cyber security and systems integration will be required to develop the effective and resilient solutions that work along the whole passenger journey, but the technology we need to make our borders the smoothest and most secure in the world already exists. What we need now are plans and processes that bring together our digital and physical systems to create borders that expedite the passage of people and goods without compromising on safety or security.
Author:
Richard Gutsell is Client Director at Atkins. For more information about the role of digital IDs in developing future borders, visit www.atkinsglobal.com/futureborders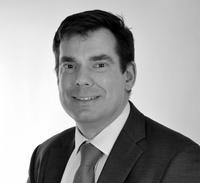 techUK's Technology and Innovation newsletter
If you'd like to start receiving information about relevant events, news and initiatives via techUK's monthly Tech Tracker Newsletter, please subscribe here and join the Technology and Innovation contact preference.

Katherine Holden
Katherine joined techUK in May 2018 and currently leads the Data Analytics, AI and Digital ID programme.
Prior to techUK, Katherine worked as a Policy Advisor at the Government Digital Service (GDS) supporting the digital transformation of UK Government.
Whilst working at the Association of Medical Research Charities (AMRC) Katherine led AMRC's policy work on patient data, consent and opt-out.
Katherine has a BSc degree in Biology from the University of Nottingham.
Email:

Phone:

020 7331 2019
Zoe Brockbank
Zoe is a Programme Assistant, supporting techUK's work across Policy, Technology and Innovation.
The team makes the tech case to government and policymakers in Westminster, Whitehall, Brussels and across the UK on the most pressing issues affecting this sector and supports the Technology and Innovation team in the application and expansion of emerging technologies across business, including Geospatial Data, Quantum Computing, AR/VR/XR and Edge technologies.
Before joining techUK, Zoe worked as a Business Development and Membership Coordinator at London First and prior to that Zoe worked in Partnerships at a number of Forex and CFD brokerage firms including Think Markets, ETX Capital and Central Markets.
Zoe has a degree (BA Hons) from the University of Westminster and in her spare time, Zoe enjoys travelling, painting, keeping fit and socialising with friends.
Email:

Phone:

020 7331 2174

Website: