Smart Data: The UK's new data sharing laws will spur innovation and improve consumer outcomes
The Data Protection and Digital Information No. 2 (DPDI) Bill was laid before Parliament on 8 March 2023, and will be key in delivering on the ambitions of the UK's National Data Strategy (NDS). In addition to reforming the UK GDPR, the Bill also sets out enabling legislation for Smart Data, which will facilitate private sector data sharing across the UK economy.
Coordinated by the Department for Business and Trade (formerly BEIS), Smart Data will offer consumers greater control over their personal and customer data, enabling better access to more personalised services and products. This could include data about energy usage, banking transactions and telecommunications usage.
For example, a consumer could decide to share data about their usage patterns for a particular service with a third-party provider (TPP), and in return receive tailored recommendations of products and services which may better suit their needs. This could help influence more consumer-friendly behaviours, such as switching providers or trying new deals and offers.
As well as improving consumer outcomes, Smart Data will help to create a more competitive market, drive cross-sector data driven innovation and help level the playing field for smaller businesses who do not have access to large data sets.
Although the benefits of Smart Data are widely recognised, techUK has previously warned against a one-size-fits-all approach to implementing any new scheme, which could risk not taking into account the differences between sectors. There are also outstanding barriers to the flow of data, such as lack of standards around interoperability and lack of infrastructure, and data skills.
Despite the challenges, techUK called on the UK Government to deliver on Mission 1 of the NDS to unlock the value of data across the economy, including legislating for Smart Data. Part 3 of the DPDI No. 2 Bill does exactly that and is a welcomed step in the right direction.
The Bill sets out enabling primary legislation for Smart Data by conferring regulation making powers on the Secretary of State and Treasury. Through secondary legislation, Smart Data Schemes can be designed across the entire economy and subject to the requirements, make holders provide customer data to an individual or a person authorised by the individual to receive the data, such as a TPP.
Before introducing a scheme, the Secretary of State and Treasury will be required to consult with key stakeholders such as regulators - a provision which should also be extended to sector-specific experts. Failure for non-compliance with the new rules could include investigation and issuing of financial penalties.
Bringing market and regulatory certainty
Viewed as both a consumer friendly and pro-innovation initiative, Part 3 of the DPDI No. 2 Bill is likely to have a smoother passage through Parliament compared to more contentious parts of the legislation related to UK GDPR reform.
However, there are a few areas where industry will be calling for more clarity and commitments in the legislation to guarantee any new Smart Data Scheme will be thoughtfully co-designed with sector specific experts to ensure they bring real benefits to consumers, and a return on investment for businesses.
One way to deliver this is to commit to conducting thorough cost-benefit analyses, impact assessments and consultations with a range of stakeholders when designing any new scheme. Additionally, to bring market certainty for businesses and investors, the UK Government should signal to industry which sectors it will prioritise for Smart Data.
Another key consideration for Government, will be ensuring regulatory consistency and certainty as any new Smart Data Scheme is introduced. The current regulatory landscape is complex and risks further complication if Government does not consider overlapping regimes or friction between different regulators. There is a clear role for the Digital Regulatory Cooperation Forum (DRCF) to play here.
However, it is promising to see the Government already start to respond to some of these concerns, with plans to run a Smart Data Innovation Prize Challenge and a Smart Data Council underway. We look forward to working with the Government, regulators and industry experts as they develop thinking in this area.
Dani Dhiman
Dani joined techUK in October 2021 as Policy Manager for Data.
She formerly worked in Vodafone Group's Public Policy & Public Affairs team as well as the Directorate's Office, supporting the organisation's response to the EU Recovery & Resilience facility, covering the allocation of funds and connectivity policy reforms. Dani has also previously worked as a researcher for Digital Catapult, looking at the AR/VR and creative industry.
Dani has a BA in Human, Social & Political Sciences from the University of Cambridge, focussing on Political Philosophy, the History of Political Thought and Gender studies.
Email:

LinkedIn:
---
techUK - Getting Regulation Right for a Digital Society
Visit our Digital Regulation Hub to learn more or to register for regular updates.
techUK is in constant dialogue with Government and policy makers to provide the perspective of the tech industry on a wide range of policy issues. Our working groups, networks, and events - including our annual Digital Ethics Summit and Tech Policy Conference - enable cross-sector collaboration and are crucial sources of insight and thought leadership. Get in touch to see how we can support your policy work. Visit our Digital Regulation Hub and complete the 'contact us' form.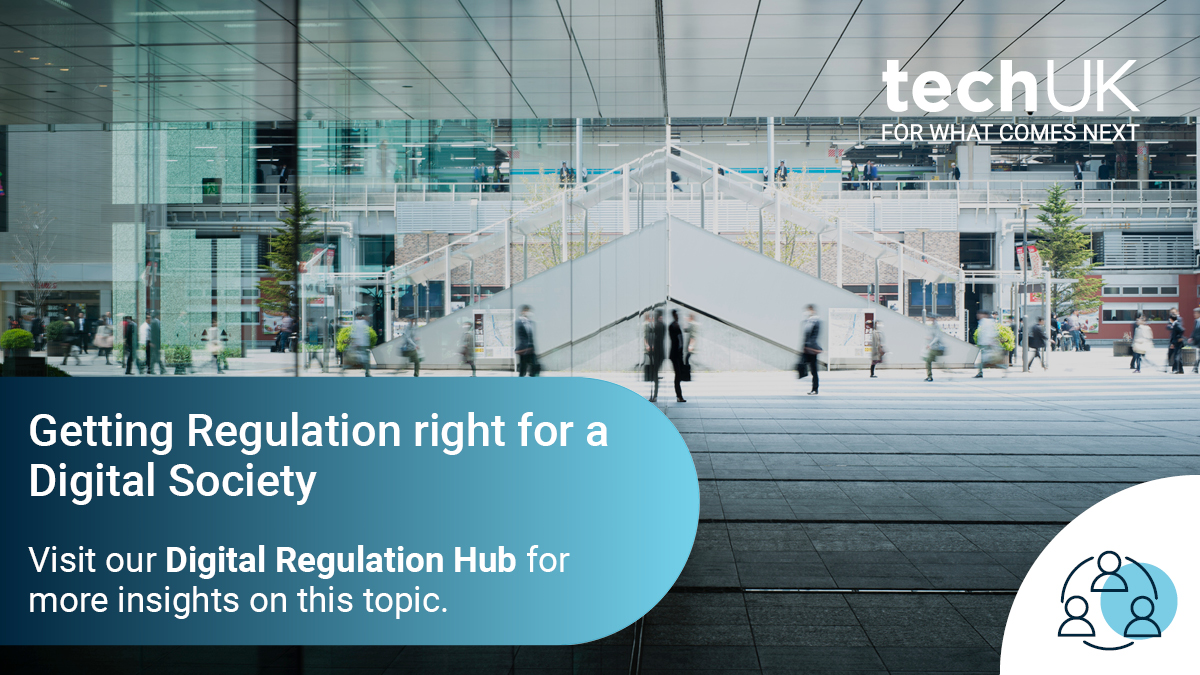 Policy Pulse Newsletter
Sign-up to get the latest tech policy news and how you can get involved in techUK's policy work.