Purify Tech: Bridging the digital skills gap: considerations for developing effective digital collaboration in the modern workplace #techUKSmarterState
For many organisations that we work with there are two significant digital gaps - sometimes chasms - that have a significant impact on, well everything.
The first is the gap between the technology available and people's ability to use it.
The second is the skills gap between people within the organisation.
Our company - Purify - specialises in Microsoft 365 and Teams; we were founded when Teams was not even a year old and when it was still trying to gain traction against its main competitor at that time - Slack. Covid changed all of that, with Teams use rising from 20 million users in November 2019 to 44 million in March 2020, then 75 million by April of that year. In 2023, Teams use has reached 300 million.
As the use of Teams has burgeoned, so have some myths around its use and around hybrid working, digital practices, and digital competencies. SWOOP's 2023 M365 & Microsoft Teams Benchmarking Report - 'The State of Digital Collaboration'1 calls out some of these. One of the most prevalent misconceptions is that 'hybrid work has caused employees to be overwhelmed with too many digital meetings, resulting in burnout and lower performance'2. SWOOPS' analysis suggests that this is a myth: 'Most employees have few digital meetings and collaborate infrequently.'3 83% of staff have less than two meetings a day, and only 1% of employees have meeting overload, with 5 or more meetings per day4.
Meetings are not, the report suggests, the problem. Rather, the issue is collaboration – or lack of it. 76% of users had not posted in a Teams Channel and 71% had not posted in a Viva Engage (formerly Yammer) community. Email is still doing the heavy-lifting in terms of communication and collaboration: most employees spend the equivalent of a full working day a week in email.5
The report posits that "Balancing email with asynchronous work in Microsoft Teams channels will provide the largest return on investment"6.
Doing this will be a step towards closing the gap between people's skills and the technology you have invested in. And leveraging the oft-cited 'pockets of best (collaboration) practice within your organization will help to close the gap between your highly-skilled early adopters and those who have yet to fully make use of the technologies available to them.
So, how to go about this?
The first thing is to remember that M365 is an expansive suite, offering a wealth of communication and collaboration options. What's important is to define collaboration and communication practices for your people and your Teams.
We've worked with a number of organisations to do this, defining and creating interactive 'What to use when' user guides and, using Microsoft's Modern Collaboration Architecture (MOCA)7 models as templates, helping teams define their blueprints for the operational use of a subset of M365 tools.
Secondly, we must remember, as James Plunkett highlighted in his recent keynote address at Nexer's Camp Digital8, that the work we are doing is – ultimately – not about technology; it's about people and practices. Our work is, argues Plunkett, about imagination. What if we started again, re-thought how we go about our work, our communication and our collaboration: what is possible and how might we achieve it? This work of digital transformation is difficult and requires tenacity, resource and buy-in at every level, but it is work that will pay dividends if effected. SWOOP estimates that, if employees improve their digital collaboration habits, it would equate to an increase in the workforce of 4.5%.9
We must then – and this is the hard part – develop methods to make our vision a reality. It's not enough to take the 'field of dreams'10 approach to digital transformation and assume that 'if we build it they will come'. We have to work in a multiplicity of ways to build routes and personalised pathways to our end destination for the heterogenous crowd of people who can really transform what we do and how we do it. We used a range of approaches in a recent adoption and change management project we undertook with one of our central government clients. Their aim was to get better value from their investment in M365. In order to achieve this, we worked with them to develop an operational blueprint for their digital estate, along with an interactive 'what tool when' guide. Building on these foundations, we then worked with them to co-develop a Teams app to support the adoption and use of M365. This app provides on-demand help and guidance for users which is customised and personalised to reflect their use of M365 and their organisational use cases. As we roll out the app to other clients, what is key to its success is ensuring that we have captured both organisational and user needs, so that the content which is surfaced is relevant, useful and targeted.
We're looking forward to Building The Smarter State 2023 and to sharing some of the lessons we've learned and to hearing about what other work is being undertaken within government to bridge the skills gap.
1 The State of Digital Collaboration - SWOOP Analytics® | Workforce Analytics | Digital Workplace Solution
2 Ibid – p.4
3 Ibid – p.4
4 Ibid – p.6
5 Ibid – p.6
6 Ibid – p.6
7 Enabling Modern Collaboration – Microsoft Adoption
8 Camp Digital - James Plunkett (nexerdigital.com)
9 The State of Digital Collaboration - SWOOP Analytics® | Workforce Analytics | Digital Workplace Solution p.6
10 Field of Dreams - Wikipedia
---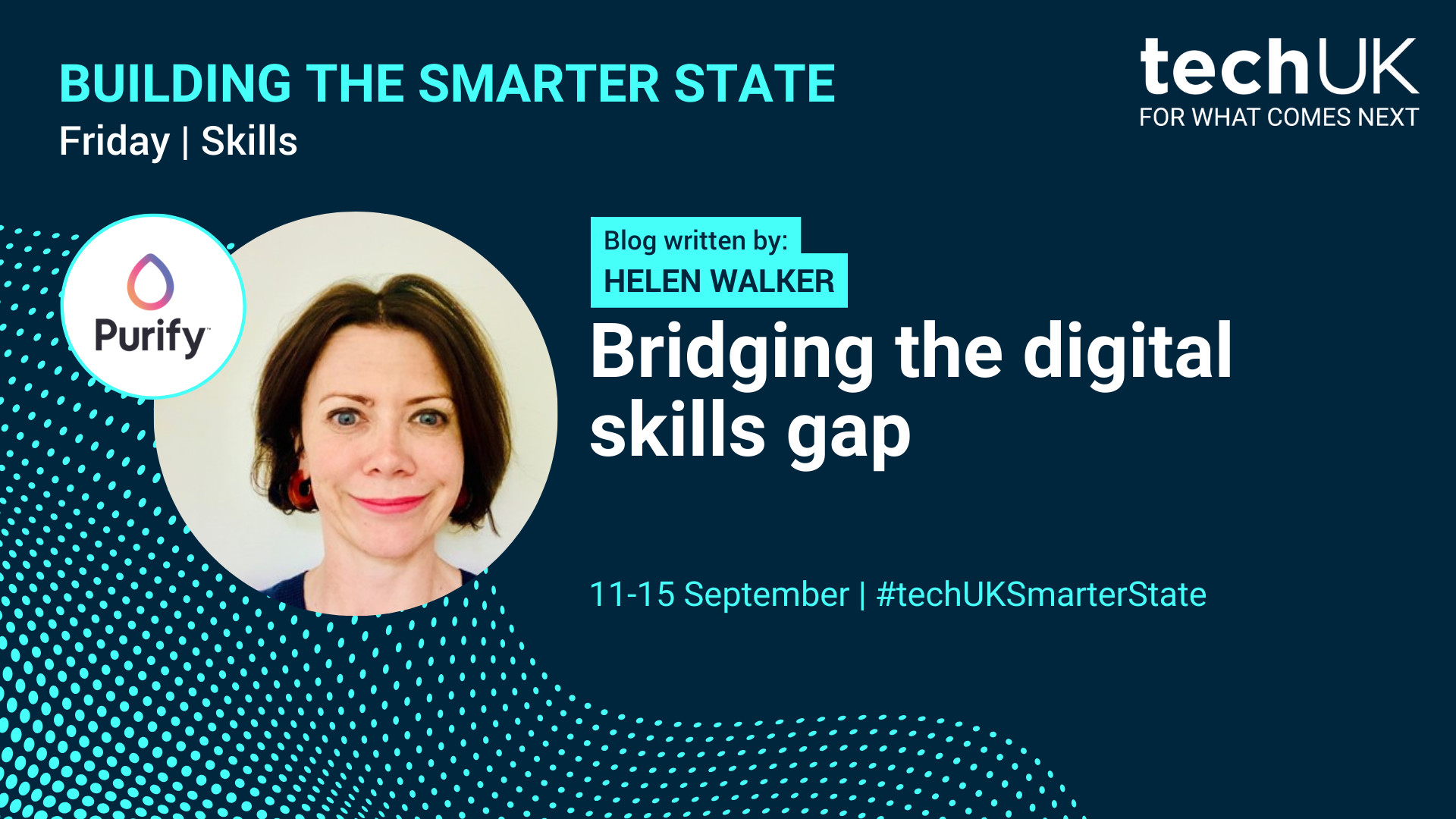 Helen Walker is Product and Marketing Director at Purify Technology.
Connect with Helen on LinkedIn or via email.
From 11 – 15 September techUK is running our annual Building the Smarter State Week in the run-up to the ninth edition of our flagship public services conference, Building the Smarter State, on Wednesday 27 September. Book your tickets here.