Digital Degree Apprentices – nominations open for Tech Industry Gold Awards 2022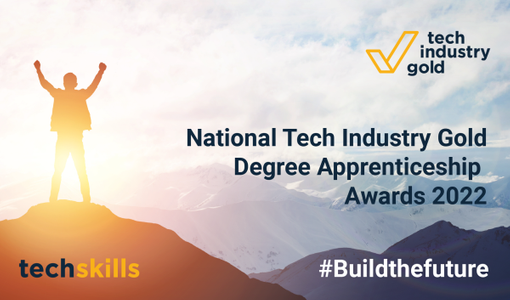 These annual awards recognise the fantastic contribution digital degree apprenticeships make to building the future for individuals and organisations.
This year there are awards in four categories: business contribution, innovation, special achievement and special recognition.
Winners will be announced at the in person/online event at our TechSkills headquarters at techUK, London during National Apprenticeship Week (7th – 13th February 2021). (NB: in light of the Omicron variant, a decision whether the face-to-face element will go ahead will be made at least two weeks in advance so please hold off purchasing train tickets to the event.)
So, if you know a worthy digital degree apprentice who has stood out by making an impact for their company, demonstrating their innovative streak, or doing something else unique which should be celebrated, we would love to hear from you.
HEIs or companies can submit a nomination covering the period January 2021 to January 2022 and, this year, apprentices can be nominated in more than one category. Only apprentices on Tech Industry Gold accredited digital degree apprenticeship during 2021 can be entered.